LGBT Community Fund "Visionary" Giving Sparks Endowment
Philanthropists in the region are stepping up their giving to the LGBT Community Fund of Southwest Florida, a fund of the Southwest Florida Community Foundation, since the fund was established last year. Three donors to date have become "Visionaries" of the fund by donating a minimum of $10,000 to start an endowed portion of the LGBT Community Fund.
"We knew there was a great deal of interest in causes specific to the LGBT community here by members of the LGBT community and allies," said Shawn Williams, chair of the fund committee. "To have this fund be endowed means it will last forever here and that means so much to those of us who were the first-in donors during this past inaugural year."
Now every year, the spending rate on the endowed fund (a percentage of the fund's balance) will become part of the total grant allocation which will be awarded each October.
You can pledge your gift making it payable over a number of years. If you are interested in becoming a Visionary, please contact us by clicking here, or call the Southwest Florida Community Foundation at 239-274-5900.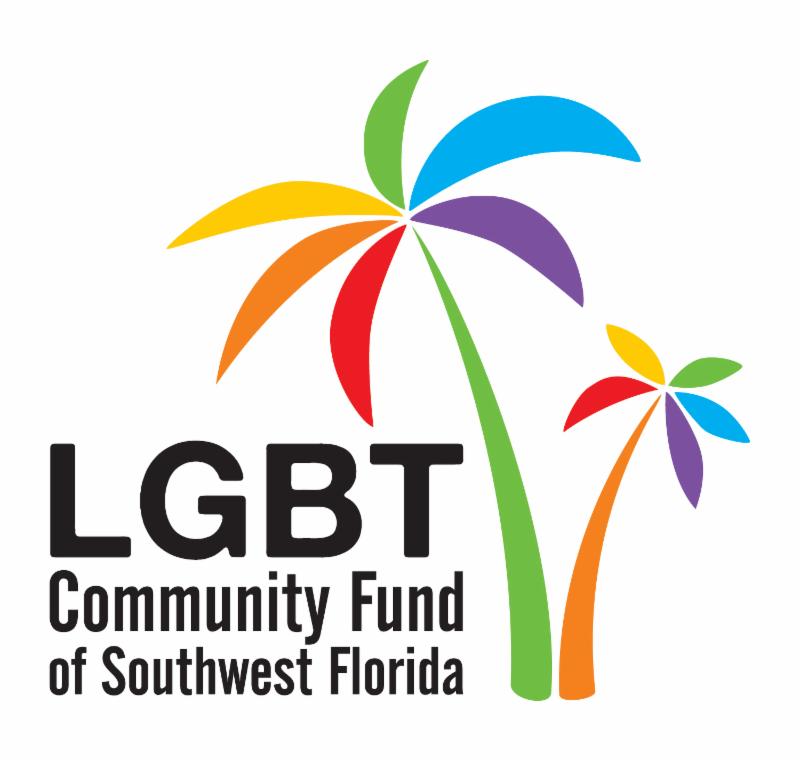 ---

Inaugural Goldberg Award Presented at Pride SWFL
LGBT community leader and advocate, Arlene Goldberg, was presented with the very first Goldberg Award, at the annual SWFL PRIDE event, for outstanding leadership and commitment to Pride-SWFL and the LGBT Community in efforts to support the fight for equality. The Goldberg Award will be an annual award selected by a committee and presented at SWFL PRIDE.
"Arlene is an icon, she is a local celebrity for her work in advocacy for the LGBTQ community here," said Mel Crawford, president of Pride-SWFL. "This is a very fitting honor to bestow upon her and in her name for future awardees."

Arlene Goldberg is co-founder and board member of Visuality, Inc. a non-profit LGBTQ youth center located in Lee County. She is past-president of PFLAG Fort Myers, and a founding member of the steering committee of the LGBT Community Fund of Southwest Florida, a fund of the Southwest Florida Community Foundation.

She was a plaintiff in the ACLU of Florida lawsuit which won same sex marriage for Florida in 2015; Organizer of LGBT panels, in SW Florida, to educate and sensitize organizations and companies regarding the LGBT community; And much more. She is available for LGBT speaking engagements to educate the public regarding the LGBTQ community;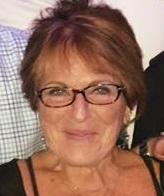 ---

First-ever Regional Multi-donor Fund Grant Presented $18,000
Presented during the Annual Tied with Pride Gala on Friday, Oct. 7, the $18,000 LGBT Community Fund of Southwest Florida grant was presented to Laboratory Theater's "Staging Teen Success Through Theater" program.
This mentorship-based theater program connects youth, ages 13 to 18, who identify as lesbian, gay, bisexual or transgender with successful LGBT adults within the theater community and licensed counselors. These mentors will support and nurture youth while they learn to better understand themselves and theater through research and development of plays, playwriting and scene study.

For more information on this, click here. And to sign up for Grants Alerts to be informed of the next LGBT Fund
grant cycle, click here.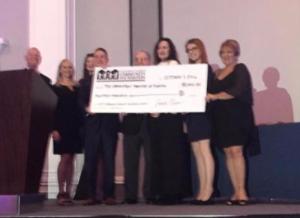 ---

Pride Month Activities Raise Awareness and Funds
Lots of great things happened during Pride events in October. The Tied for Pride event graciously hosted by the Hyatt Coconut Point generated $2675 in contributions for the LGBT Community Fund for next year's grant.
The LGBT Fund booth at Pride Fest received lots of visitors and caught everyone's attention with the large $18,000 grant check on display.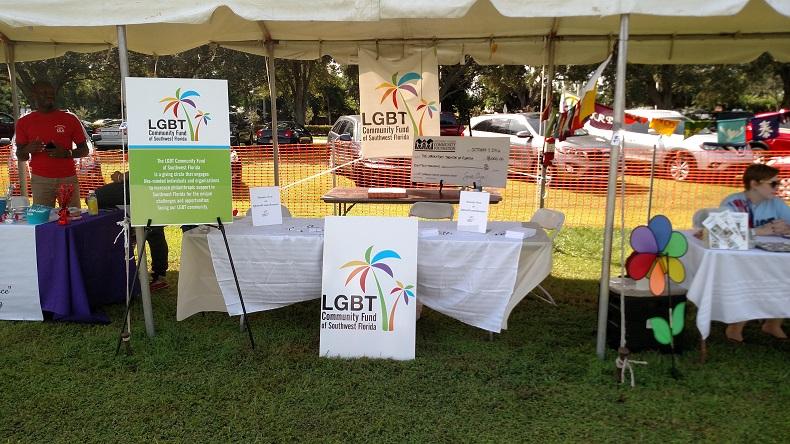 ---

It's Time to Renew or Join Us! Become part of a group doing important philanthropy in SWFL
Entering into its second year, the LGBT Community Fund committee invites you to become part by making a contribution to address some of the unique needs of Southwest Florida's LGBT friends and neighbors.To contribute now, click here.

Be an "Advocate" contributor and have a voice in the choice!
As of May 1 of each year, those "Advocate" Contributors who have made an annual contribution of $250 or more to the Fund during the year prior will be eligible to participate in the voting for the final focus area(s) for grants. This "mulit-donor fund" is a group of donors working together to pool their resources so that together their philanthropy can do more. To give $250 or more to the fund, click here.

If you would like to contribute to the endowed portion of the fund as a Visionary, click here.
THE FOUNDATION IS REGISTERED WITH THE STATE OF FLORIDA PURSUANT TO CHAPTER 496, SECTION 496.405 OF THE FLORIDA STATUTES. A COPY OF THE OFFICIAL REGISTRATION (#CH661) AND FINANCIAL INFORMATION MAY BE OBTAINED FROM THE DIVISION OF CONSUMER SERVICES BY CALLING TOLL-FREE (1-800-435-7352) WITHIN THE STATE. REGISTRATION DOES NOT IMPLY ENDORSEMENT, APPROVAL, OR RECOMMENDATION BY THE STATE. WWW.800HELPFLA.COM